Welcome to Hotel Kazbek – Laid-back Luxury
5 Star Boutique Hotel Kazbek in Dubrovnik, Croatia
Villa Kazbek is a luxury 5 star boutique hotel owned by the Swedish investment company Pervanovo.
The company's aim is to acquire the best located monumental properties in and around Dubrovnik and to renovate them back to their former glory. Pervanovo's policy is to maintain as much of the original building as possible whilst at the same time refurbishing to the highest possible standards and comfort levels.
The first and the great example is the boutique hotel Kazbek. It was constructed in 1573 by one of the Dubrovnik noble families Zamanja as their summer residence. Although designed as a place for peace and relaxation history had other plans and the Dubrovnik Villa Hotel passed through various violent ages. Kazbek is now fully renovated to the highest standards and has regained its original beauty and function as a summer residence for guests with high demands in privacy and culture combined with modern facilities.
This impressive villa is situated directly on the coast in the bay of Gruz just 3 kilometers from the Old City of Dubrovnik.
Our 5 Star Hotel in Dubrovnik offers a high degree of privacy and customizable renting plans in its 12 double rooms and 1 suite. It is possible to rent an entire floor or even the entire castle if required.
Our aim is that our guests should not have the feeling of staying in a regular hotel, but more the feeling of staying at a renaissance castle with the services and privacy that comes with it.
A perfect harmony of the past and the present.
The whole Kazbek area is a completely non-smoking zone.
Dubrovnik Luxury Accommodation
If the walls could only talk what stories they could tell. Each room is a work of art and each has its own special place in history. At Hotel Kazbek we pride ourselves on our individuality and our rooms are certainly no different.
Slideshow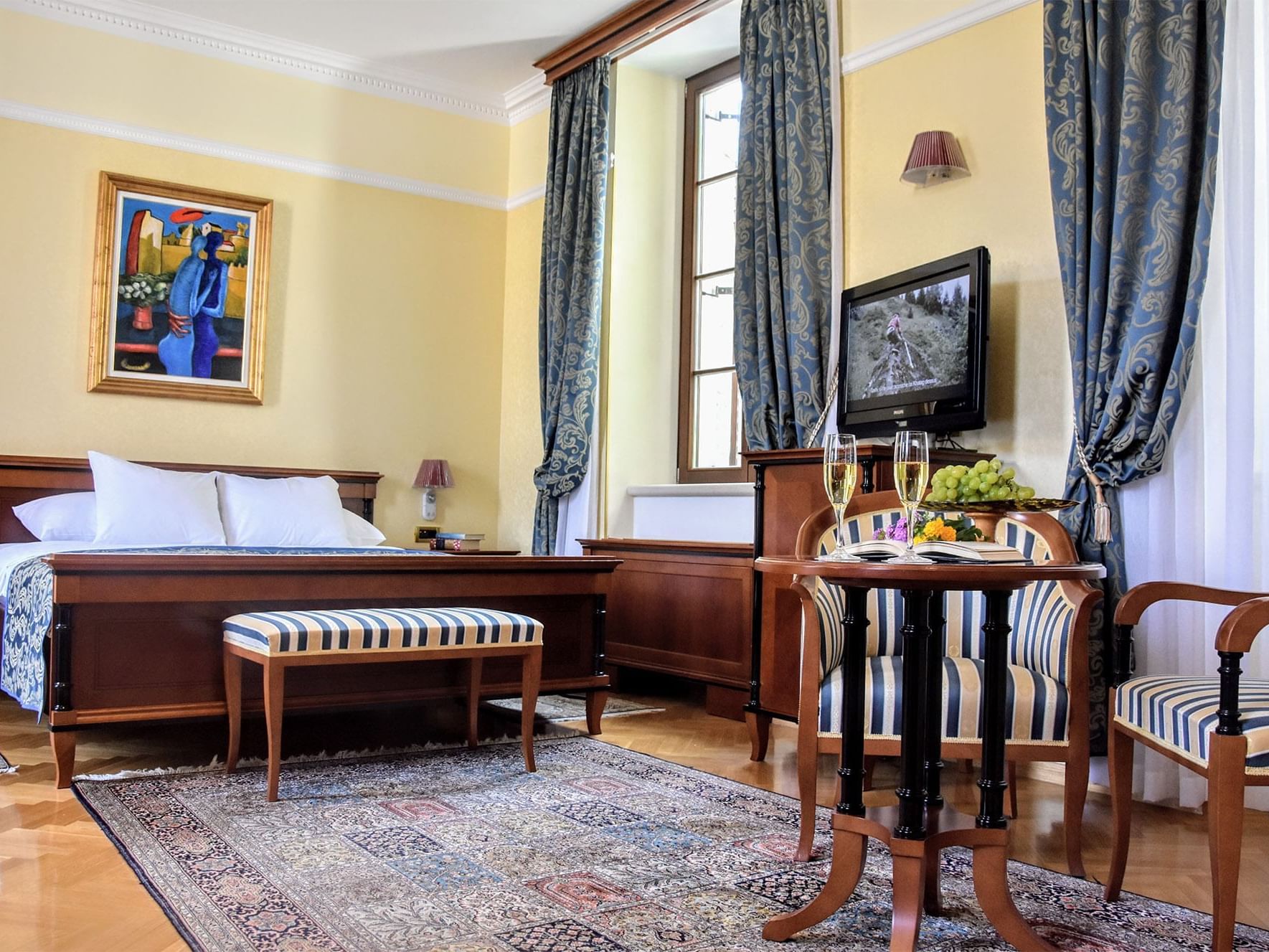 Deluxe Double Room, 42 sqm, king size bed, sea and pool view
This bright and spacious room is 42 meters squared and has been decorated and furnished individually to make your stay unique. The spacious, modern bathroom includes both a bathtub and a shower.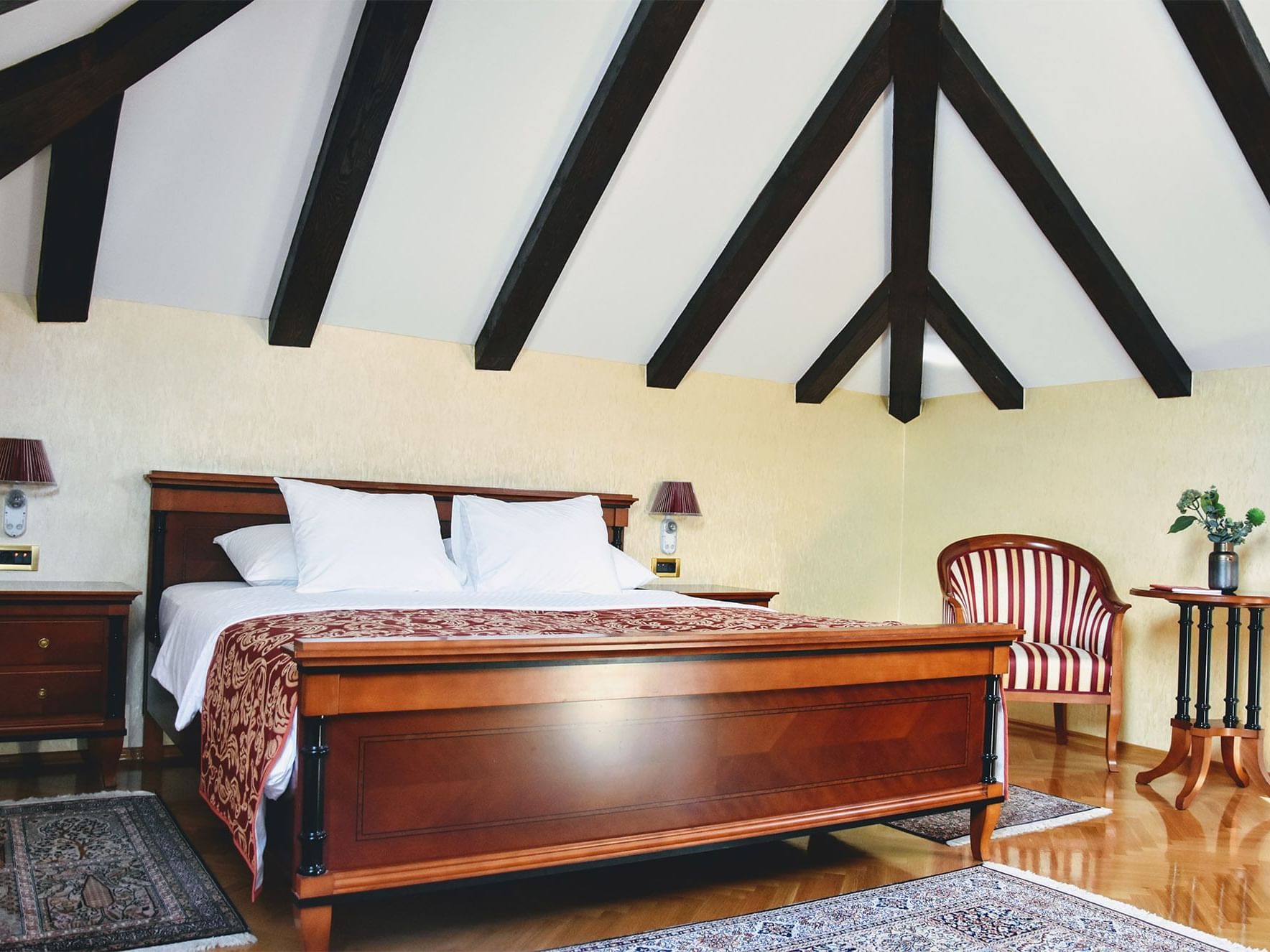 Kazbek Suite, 45 sqm, sitting area and separate bedroom with king size bed
Harmoniously divided into two separate spaces, the Kazbek Suite features a sitting area and separated cozy bedroom and is 45 meters squared.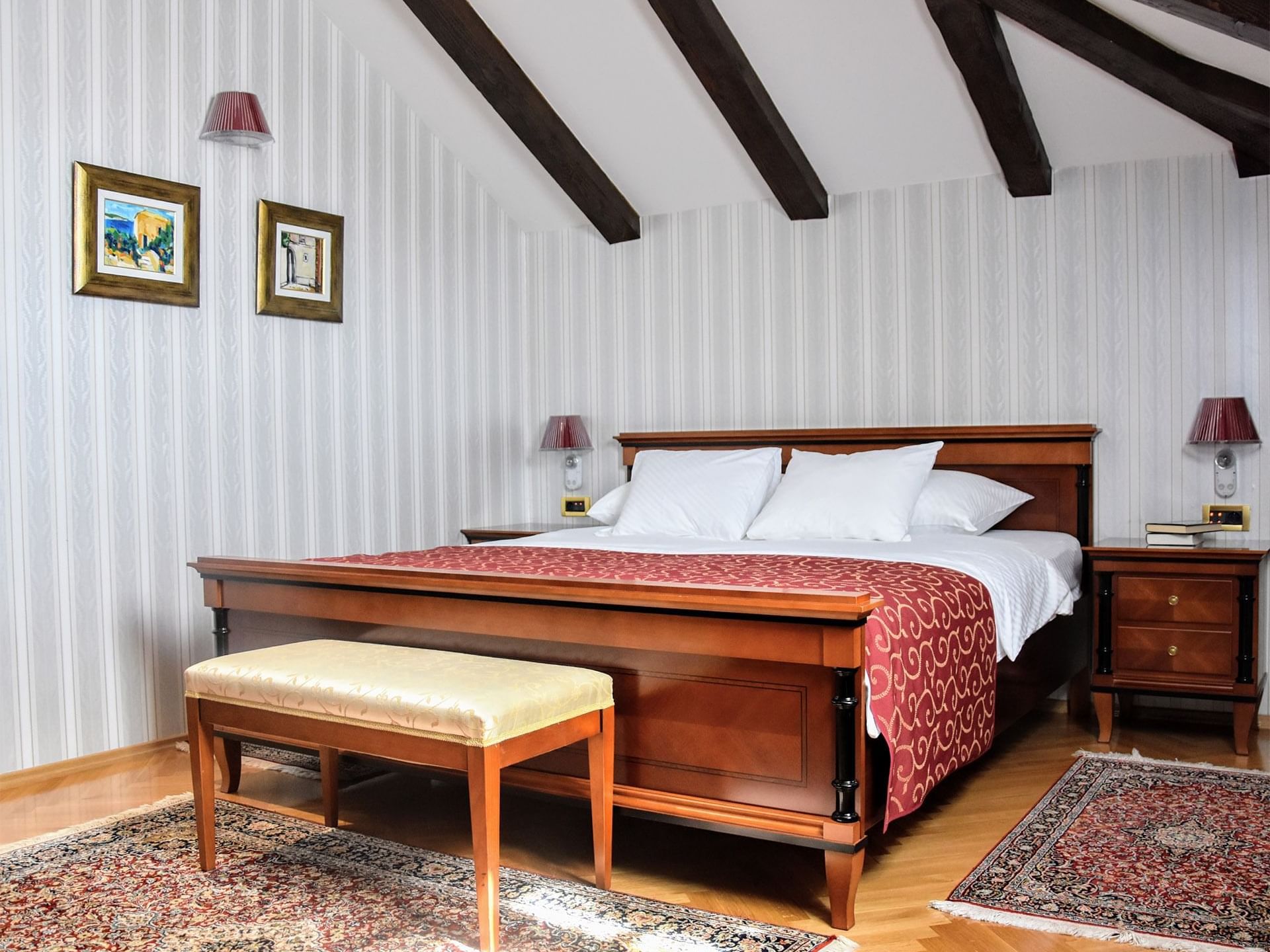 Superior Double Room, 25-30 sqm, king size bed
All our superior double rooms are enjoying the very best of modern comforts and convenience but still characterized by the elegance of Old Dubrovnik style.
Go Green
OUR SMALL STEPS TO GOING GREEN
In today's world, it is becoming more and more important to focus on issues of nature conservation and environmental sustainability.
We act according to ecological principles, environmentally conscious, modern and future-oriented.
Here are eco-friendly and go green initiatives at our Hotel Kazbek:
Our guests are offered to choose how often they would like their bedding and towels to be changed
Eco pump bath amenities
Reduce plastic use (paper straws, recycled glass bottles)
Usage of ecological cleaning products
Complimentary recharge service for electric cars in Kazbek vicinity
Eco-friendly furniture throughout the entire hotel (environmentally friendly materials)
Trying to choose fair-trade products
Grocery shopping in our local markets
Commitment to sourcing 100% cage-free eggs / Read more /
Serving of local and organic food