Contact & Location
Hotel Kazbek in Lapad Near Dubrovnik Old Town
Welcome to Dubrovnik – a city with a thousand years old tradition that offers something for everyone.
A medieval city on the Croatian side of the Adriatic coastline, Dubrovnik is a treasure trove of cultural and historical attractions.
As a City-Republic, it was alongside Venice as one of the most famous cultural-economic centers on the Mediterranean. In more recent times, Dubrovnik has hosted modern cultural and tourist events. It is a city of summer festivals, an international parade of top musical and theatrical achievements and a city of museums and galleries. Dubrovnik beach hotels offer a rich selection of various experiences and excitement, but also a complete holiday in a quiet and calming, mild Mediterranean ambiance and wonderful seaside landscapes.
Our impressive villa is situated directly on the coast in the bay of Gruz just three kilometres from Dubrovnik Old Town. A marina in front of the Kazbek is convenient not only for guests interested in sailing but also for those looking to explore the numerous islands around hotels in Dubrovnik city.
Contact us at Hotel Kazbek
Find us on the map

Dubrovnik Airport: 22 km
Lapad center: 400 m
(shopping area, walking area, restaurants and beach)
Dubrovnik Old Town: 3 km
Lapadska Obala 25
Dubrovnik 20000, Croatia
Hotel Kazbek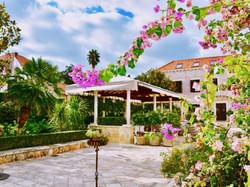 Hotel Kazbek is situated on the coast of the Lapad peninsula in the safe and sheltered port of Gruz.
KAZBEK d.o.o. putnička agencija za trgovinu i ugostiteljstvo ● MB 1881612
OIB 51417113283 ● PDV broj HR51417113283
Lapadska obala 25, 20 000 Dubrovnik, Hrvatska ● tel: +385(0)20 362 999
fax: +385(0)20 312 240 ● info@kazbek.hr ● www.kazbek.hr
Trgovački sud u Dubrovniku / MBS 090010941 ● Temeljni kapital 24.221.200,00 kuna uplaćen u cijelosti
Predsjednik uprave: Darko Pervan / Član uprave: Dagny Ingeborg Pervan / Član uprave: Stjepan Vojinic
Poslovna banka: Raiffeisenbank Austria d.d. Petrinjska 59, 10 000 Zagreb
IBAN: HR6124840081102781193 ● SWIFT: RZBHHR2X